I'm fascinated by the subtle changes that make a big difference. The optimizations that only take a bit of time and thought, but which fundamentally improve our lives. This weekend I stumbled upon one such change by accident.
I'd heard of feng shui through popular culture, but never really took the time to understand its principles. All I really knew is that it was "bad feng shui" to have your bed against the same wall as your bedroom door. And while the boldest claims feng shui practitioners make should be regarded as pseudoscience, it's still worth examining whether there are parts of the practice that can be appropriated in order to live a better life.
A YouTube search for "feng shui office" turned up tons of self-proclaimed feng shui consultants recommending placing your desk in the command position. For the layman, this just means that instead of putting your desk against the far wall with your back to the door, turn your workstation around so you face the door with your back against the wall: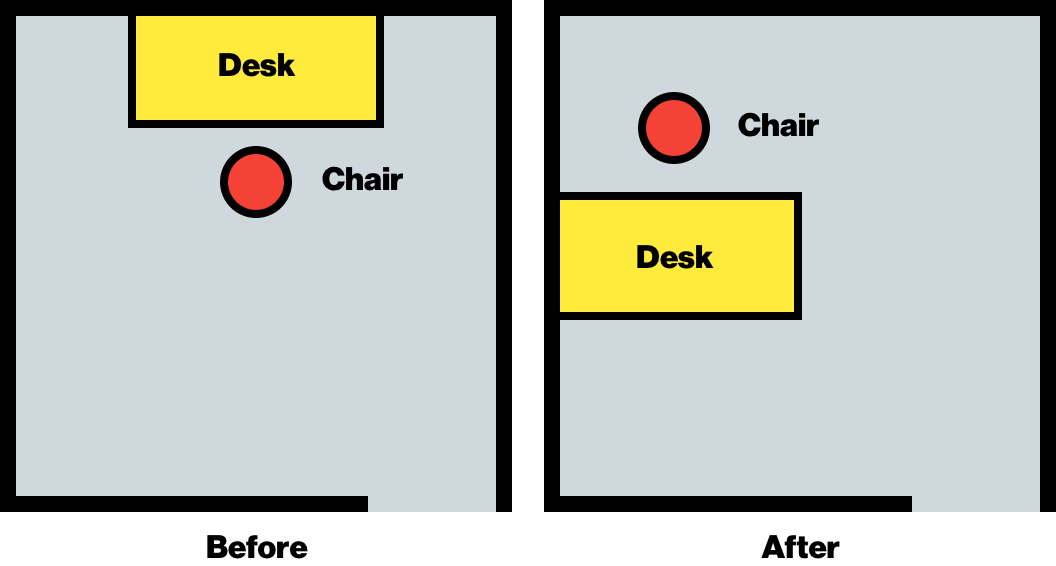 The theory behind this is that the wall behind you provides you some sort of energetic support and that by facing your door, you're open to new business entering your life. If that sounds woo-wooey, you're not alone. But being a bit of an interior design enthusiast, I couldn't help but spend an hour rearranging my office to see how it felt to face the other way.
When I did, I was struck. I feel more open and in control sitting at my new workstation---and yes, I'm aware how new-agey that sounds. There's just really no other way to describe it.
I do wonder though: Is part of why I feel better with my desk facing into the room that my periphery is more expansive? Rather than looking out onto a wall directly in front of me, I'm now looking at the entire room. I wonder if there's some biological response of which I'm unaware.
If you have the luxury of having a dedicated office and your desk currently faces the wall, give the "command position" a try. I'm curious whether you feel the same empowerment I do.