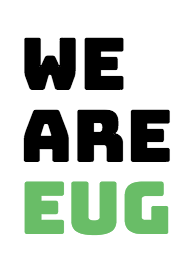 Since moving to Eugene, Oregon at the beginning of 2017, I've been flat-out astonished at the energy booming in the tech and creative communities here. Between #TechTuesday, RAIN Eugene, Silicon Shire, and the Eugene Tech Switchboard, Eugene has an incredible infrastructure of support for developers, designers, makers, and more.
This all makes me excited to contribute to the advancement of Eugene's status among creative cities. I want to build tools that help our community members promote their talents and services.
That's why I built WEAREEUG.
Inspired by sites like We are PRTLND, WEAREEUG is a "who's who" site for the Eugene creative community.
The response so far has been overwhelming. To everyone so far who has created their own profiles, I thank you for making the site glow on its very first day!
If you have an idea or suggestion for the site, I'd love to hear it. Send me a message or find me in the Eugene Tech Slack. I'm @teejayvanslyke.